Welcome Home!
At Whangaparāoa College we have an awesome group of people who extend their homes and families to our international students.
It is a privilege to be entrusted by international whanau to care and support their children while away from home.
Here at Whangaparāoa College we believe homestay families are a crucial ingredient in the experience of a student while studying in New Zealand.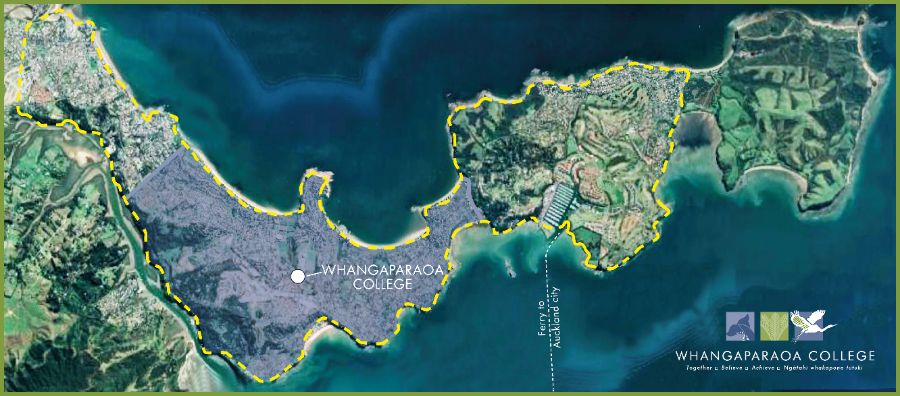 80-85% of our homestays are located within the shaded area above. Most students walk to school from home or use the inexpensive school bus.

Homestay Photo Gallery
Please click here to view

Why Whangaparāoa?
Please click here to discover our beautiful area
Become a Homestay!
We welcome families living in Whangaparāoa to consider this role and encourage applications.
If you are interested in welcoming a student into your family and home here are some qualities we look for when considering your application.
A family who:
Enjoys opening their doors to someone new and inviting them in as part of their family.
Understands and embraces the challenges and enjoyment of hosting teenagers.
Wants to learn about international cultures and respects this part of a student's wellbeing.
Is excited to share the kiwi culture with their student and explore some of Auckland's wonderful attractions and stunning environment.
Supports our students with their education and connects with their teachers and college when required throughout their studies.
Here's the Process!
If you would like to apply to become part of our homestay portfolio, please read through our Residential Caregiver Guidelines and complete these forms:
Please email your application to [email protected] and an interview and inspection in your home with our Homestay Manager will be arranged.
Should you meet all our requirements and background checks we will then include your family in our database.
When a suitable student application is received we will be in touch to discuss.
Follow this link to see Cultural cues for homestay families
If you have any queries in relation to Homestay please contact Sue McKay, our Homestay Manager on +64 9 424 9177 ext 238 or email [email protected]